Potion Bags

BLACK FRIDAY
New offers are available in the potion section of the shop.

ALL POTIONS IN ONE CLICK
The 32-potion bag allows you to buy a sample of every potion in the game at once! And enjoy a discount with the bag of 96 potions at 18,000 golden apples instead of 19,200. This bag offers 3 samples of each potion
BONUSES FOR YOUR GAMES
You can use up to 3 potions per game. The potions' bonuses accumulate. This means that by using 3 potions that start you off with 250,000 gold, you will start the game with 750,000 gold!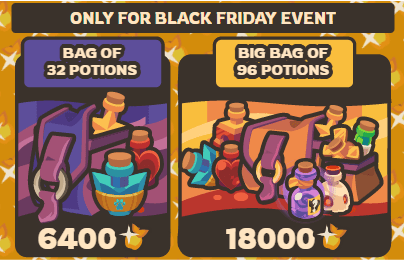 These bags are only available during the Black Friday period.
I WANT TO FILL MY INVENTORY!
26 November 2022