Season Pet Chests Discounts

BLACK FRIDAY
The Season Pet Chests cost only 500 Golden Apples for the Black Friday.

UNLOCK PETS ACCORDING TO THEIR BIOME
Those 4 chests allow you to unlock pet cards. Each one represents a biome and allows to unlock the pets present in this biome. These chests also allow you to unlock the pets only present during the events. For example, the Legendary Turkey is easier to unlock since he's still available in the game.
MORE CHANCE TO UNLOCK THE PET YOU WANT
Taming.io currently has 4 biomes, so you now have 4 times more chance to unlock the pet you want.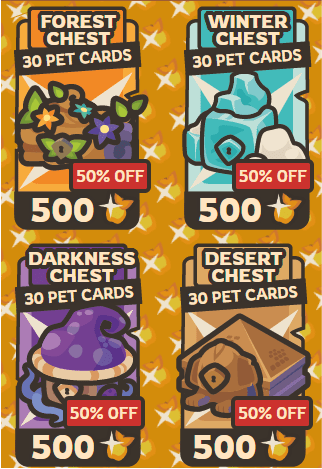 These prices are only available during the Black Friday period.
OPEN A SEASON PET CHEST!
26 November 2022